Rabbit care begins long before you intend to purchase a pet rabbit, it actually starts further back than the care of the great, great, great, grandparents of your intended or chosen rabbit.
Once you have decided to own and care for a rabbit, you should then visit a reputable breeder. Possibly one that has been breeding /showing for a good number of years this ensures that they are very knowledgeable. You will know a reputable breeder as they will be a member of the British Rabbit Council and often will be a breeder who is proven within the show world or has bred to show standard and understands the breeds requirements this will not necessarily guarantee you a rabbit worthy of winning show but it will provide the assurance of an extremely high standard in health and breed quality of your pet.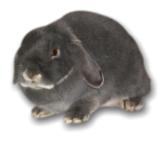 When viewing potential new pet rabbits it is extremely important that you are able to inspect its current living conditions, is the hutch size sufficient for breed? Is the hutch clean? Is it bedded on the correct clean material? Is it being fed on a high quality food?
Now are you able to see the parents of your potential new pet? If not, why not? Never feel you can't ask these questions. I should now mention that the building the rabbit and its hutch are living in should be of a high standard as well, as a normal garden type shed with a felt roof, windows etc is a far from acceptable building in which to breed rabbits as summer heat and winter cold will always be too severe, and its possible your new pet rabbits ancestors have been here for years.
Please also note that many breeders will advertise that their "shed" has air conditioning and heating. This is extremely dangerous in a breeding area.
Firstly the only purpose for heating would be for the comfort of the breeder, as the "shed" if fit for the purpose of breeding should not experience extreme cold, also heating will only prolong and maintain the life cycles of parasites. It also interrupts the natural requirement of the rabbit to moult (grow and shed coat).
Secondly the use of air conditioning in a shed is an extreme health hazard to any living thing within it. Air conditioning units used in this fashion will be of the portable variety and their use to make them in any way efficient requires closing of doors, windows etc. This will quickly allow the air contained in the shed to become very stagnant, through the lack of ventilation, this manifests itself very fast to demonstrate low oxygen levels within the shed.
Don't be too alarmed your living room is quite a different place than a wooden shed exposed on all sides with lots of little furies all breathing away.
It also important to ensure that the living conditions of the rabbits are not open to regular visits by vermin or flies as these pests can cause long term problems and deficiencies in rabbits.

All too often rabbits are purchased from bad conditions because the poor things look like they need "rescuing" and you could make its life better. All this will achieve is to encourage the ill equipped breeder to continue further with their endeavours. It will also sadly mean that once you and the children have fallen "in love" with your new pet, the vet bills that may be required to keep it alive owing to its poor start in life will become a burden you needn't bear.
Pet shop rabbits:-
Don't buy them for all of the above reasons that you're never going to see and also the only advice you'll get is from the sales assistant!!!!
Rabbit care, once you have purchased your pet its needs are most varied depending upon the breed you have chosen. Should you choose to buy a rabbit from me the care it personally requires will be explained to you, its housing and positioning of shall also be advised, and most importantly I am always available for advice and aftercare for the life of your rabbit.
If you do not buy a rabbit from myself do make sure you go to another reputable breeder with many years of experience.
New breeders always come and go so ask how long the person you have visited has been breeding for. Anyone can say they breed to show standard, but do they? Anyone can be a member of the BRC, you do not have to show, some breeders become a member to advertise their membership to make them sound better to potential purchasers.
Basically everything boils down to the rabbit you are buying as a pet for many years to come, make sure all the ground work is done first, ask questions, visit the breeder, do not buy on spur of the moment, make sure you can allow time for your pet.
We do not get fed up with our children and give them away as we are too busy, have no time etc……. this should also not happen to a pet as they have feelings too! However certain circumstances may occur and we cannot keep our pets, if for any reason you cannot keep your rabbit you bought from myself I am happy for you to bring it back to me and I will keep it here until I can find a suitable new home.
Pet shop rabbits?
Are you able to see the parents of your potential new rabbit?
What information do they have about the rabbits they are selling?
Would it have ever been handled?
Where was it originally bred?
Can they correctly sex the rabbits?
Is the only advice you'll get from a sales assistant!!!!
DON'T BUY THEM
At Chimbunny we have…

Over 25 years rabbit breeding experience

Breeder of quality show, breeding & pet rabbits

BRC member & listed on the BRC Breeders Directory

Member of certain breed clubs
REMEMBER
A RABBIT IS
A COMMITMENT
FOR LIFE
If you wish to view or own one of our available rabbits, please see our


Rabbits For Sale page and give us a call on
or email us at info@chimbunnystud.co.uk
Please feel free to call and make an appointment to visit us at Chimbunny Stud